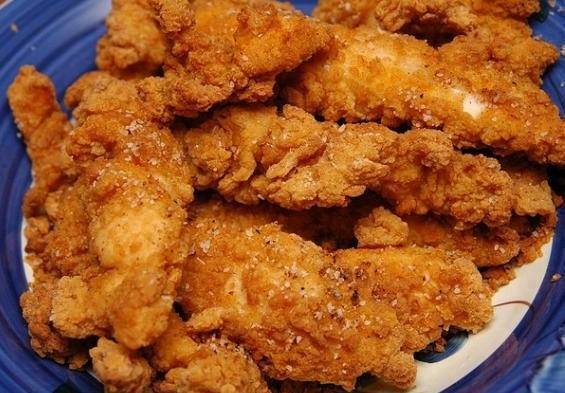 I couldn't just call this "Buttermilk Oven 'Fried' Chicken," because I'm pretty sure it's THE BEST Buttermilk Oven Fried Chicken.
I have tried a lot of "oven fried" chicken recipes with a variety of crunchy coatings, and this is the only one I've made more than once. It's a great recipe!
This recipe is from my good friend Gina's new cookbook, The Skinnytaste Cookbook. If you don't know Gina, she's wonderful! She is the creator of the food blog Skinnytaste, and her mission is to share lightened up food that still tastes good. I think a lot of skinny recipes tend to lack flavor, but every recipe I've tried from Gina always has that flavor component there.
Gina's cookbook was really well done, and I know Gina poured her heart and soul into this book. If you're a fan of light, flavorful dishes, I think her book is well worth adding to your cookbook collection (you can get it on Amazon, or wherever books are sold).
Ingredients :
1 Chicken- cut up
3 cups all-purpose flour
2 teaspoons garlic pepper
1 teaspoon sugar
2 teaspoons paprika
1 cup buttermilk
2 eggs
1 teaspoon baking powder
3/4 teaspoon baking soda
Olive oil

Directions :
Preheat Oven 350 degrees:
In a baking pan, whisk together flour, garlic pepper, sugar and paprika.
In a medium size bowl, whisk together buttermilk, eggs, baking powder and baking soda until smooth.
Dip each piece of chicken into buttermilk mixture, shaking off excess.
Roll in flour mixture and then dip into buttermilk and flour mixture a second time.
Place in baking pan and drizzle with olive oil.
Bake about 50-55 minutes or until chicken is golden.
Serves: 4
WW Points: 3