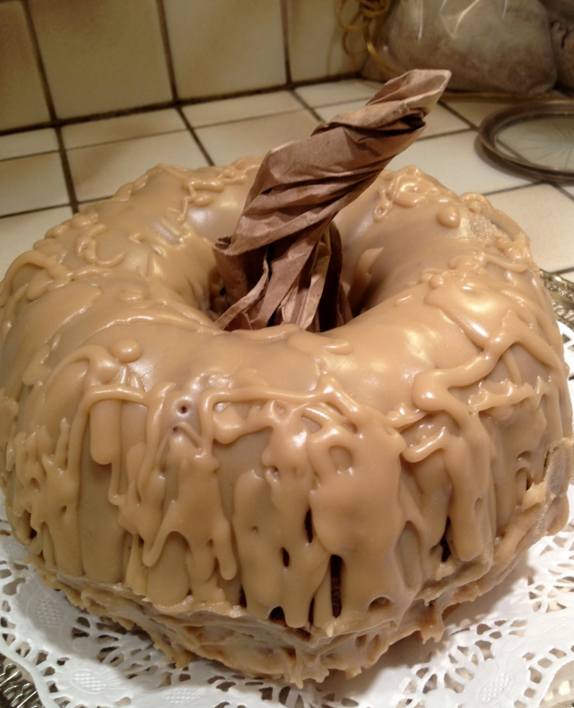 This Best Ever Chocolate Bundt Cake with Caramel Icing is rich, decadent, and super easy to throw together, no mixer necessary!
It's funny to me, that, you never know when a conversation will end up being one that's indelibly imprinted in your memory banks. Today I was thinking about a dialogue I so clearly recall that occurred seven or eight years ago. My son-in-law, Josh, asked a most interesting question.
"If you could have any job in the world, what would it be?". We went around the table, and it was interesting to hear the wide variety of answers. Josh was the only one who was able to say, "I'm doing exactly what I would do if I could choose any job in the world." I totally understood that, because he's passionate about his work and almost every aspect of his job seems to be custom-tailored to his temperament and talents.
My outside-the-home job for over thirty years was a wonderful career as a registered nurse. I worked in the obstetrics department of a local hospital, taking care of new moms and their babies after delivery. I really enjoyed my work, but I can't say it was my passion. And I certainly never had a desire to climb up the hospital career ladder.
When it was my turn to answer the question, I stumbled a bit. I said, "I'm not sure exactly, I think it would have something to do with food since I've loved to cook ever since I can remember. It wouldn't be a restaurant, not a catering business…. maybe a cooking school? The conversation ended that night and I still had no idea what that "dream job" would be for me, except that "It would have something to do with food."
It's interesting how life changes. If someone asked me that question today, I could honestly give the same answer as Josh; "I'm doing exactly what I would do if I could choose any job in the world." Yup, it's true. My full-time job these days is The Café and I can't believe I get to play in the kitchen all day, testing, tinkering and creating. Not only that, I get to do it all with my best friend and husband, Scott!
We're celebrating today, as it's an anniversary for The Café. I had the crazy idea a little over four years ago to start a food blog. I had no idea what was involved, but I thought it would be fun. Scott offered to be my photographer, editor and behind-the-scenes person, and away we went!
We've enjoyed learning the ropes and working together these past four years. Like any job, there have been frustrating days when nothing goes right; days when technical issues seemed impossible to resolve and days we've been tempted to throw in the towel. There are even days when I end up trying four or more versions of a similar recipe before I get it "right". But all in all, we love our job here at The Café, and wouldn't want to be doing anything else.
Caramel adds a wonderful flavor to cakes, we all know that, as we know that it goes perfectly with chocolate! That's why I'm sharing with you this amazing chocolate pound cake with caramel frosting, I hope you like it!
You'll Need (for the pound cake):
3 sticks of butter.
3 cups of sugar.
6 eggs.
1 tsp of vanilla.
3 cups of flour.
½ tsp of baking powder.
½ cup of cocoa.
½ tsp of salt.
1 ¼ cups of milk.
You'll Need ( for the icing):
1 stick of butter.
1 cup of brown sugar.
¼ cup of whole milk.
2 cups of confectioners' sugar.
1 tsp of vanilla extract.
How to:
In a bowl, cream together the butter and sugar and add in eggs and vanilla and mix until well combined. In a separate bowl, mix together the flour, baking powder, cocoa and salt, then add the dry ingredients alternately with milk to the creamed mixture. In a preheated oven to 350°, bake for 1 hour. To make the caramel icing, melt the butter and brown sugar in a medium size heavy saucepan over medium heat. Cook while stirring for 2 minutes then add in the milk and stir. Bring to a boil and turn off the heat. Add in confectioners' sugar and vanilla and beat using an electric mixer or a wooden spoon to smooth. While still hot, pour the frosting over the cake. If the icing harden before you could use it, heat it again. Bonne Appétit! Simple, easy and delicious! I decorate this cake with pecan halves, feel free to top with anything you like! Last week I made this for my family, they are already asking me to bake it again!
Source: 78recipes