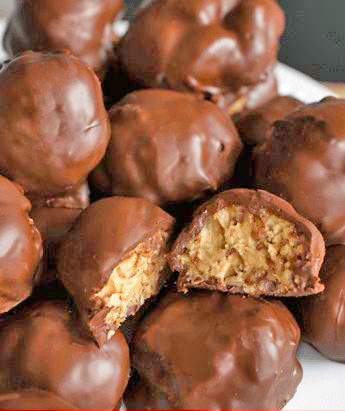 No-Bake Peanut Butter Rice Krispie Balls recipe: chocolate-covered peanut butter balls get a crispy upgrade for the best Christmas dessert! They are the perfect bite-size treat for the holidays!
It's hard to believe it's Christmas baking season already, but here we are. I tend to make the same things every single year and I'm more than OK with that. Christmas is all about traditions for me! These no-bake peanut butter rice krispie balls are definitely being added to that list of traditions, along with my Italian Ricotta Cookies.
I remember the one year I tried to get away without making the Christmas cut-out sugar cookies and Mr. Wishes just about got up and left me for good. Ha ha! I mean, in my defense, those are very time-consuming cookies to make with the rolling, chilling, cutting out, decorating, etc.
Ingredients:
½ cup peanut butter
3 tbsps soft butter
1 tsp vanilla
1 cup Rice Krispies
½ cup chopped pecans
1 cup shredded coconut
Directions:
Mix together,refrigerate for a half hour and form into balls. Return to fridge and let chill at least an hour.
Melt the following together in a double –boiler:
1 package chocolate chips,
1 square sweet chocolate
Keep on low so that chocolate remains soft.
Drop balls into chocolate mixture one at a time using a fork to roll them so that the chocolate will cover. Let set on parchment paper in fridge.
SOURCE: ALLRECIPES.com