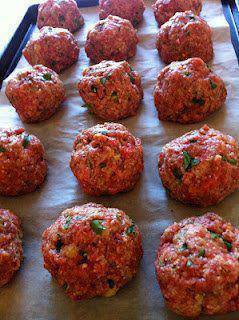 When it comes to main dishes, you absolutely cannot go wrong with meatballs. Especially among the little crowd; they go bonkers over them! These meatballs are quick and easy to make and are very kid friendly. Once you've mixed the meat, have them form the meatballs and they will have a blast. Especially when it comes to eating them and usually don't leave leftovers. Unless you are new to my blog, you probably already know that I usually don't like to buy ground meat at the supermarket but instead grind meat at home because I feel like I can better control the cleanliness of the meat.
The spices are pretty simple but provide a fantastic flavor. The addition of Italian seasoning in these meatballs give them a richer and a more scrumptious taste. They are also wonderful to freeze. After they are completely cooled, divide them into your desired portions and freeze. When you need them, place the fridge to thaw and you may enjoy them at any time.
Serve them with pasta, spaghetti sauce and sprinkle some freshly grated parmesan cheese. What kid would not love a meal like this? And for moms, it's a great deal, as they're easy to make and disappear fast. I hope you enjoy them with your kiddos as well. ?
Ingredients
1 1/2 tsp regular butter
1 1/2 tsp olive oil
1 large uncooked onion(s), minced
1 pound(s) uncooked lean ground beef
1 large egg(s), beaten
1 Tbsp fresh parsley, finely minced (or 1/2 tsp Italian seasoning)
3/4 tsp table salt
1/4 tsp red pepper flakes
1/4 cup(s) canned beef broth, or chicken broth
1/4 cup(s) white wine
Instructions
In a large skillet, melt butter and oil over medium heat. Add onions; cook, stirring occasionally, until they start to caramelize, about 8 to 10 minutes. Remove onions to a large mixing bowl and add beef, egg, parsley (or Italian seasoning), salt and red pepper flakes; mix well to combine. With damp hands, roll forty-eight 1/2-inch meatballs.
Place same skillet over medium-low heat. Add meatballs, broth and wine; simmer until cooked through, gently turning meatballs once during cooking, about 20 minutes. Yields 4 meatballs per serving.
Serves: 12
WW Points: 2
CLICK NEXT PAGE TO CONTINUE …