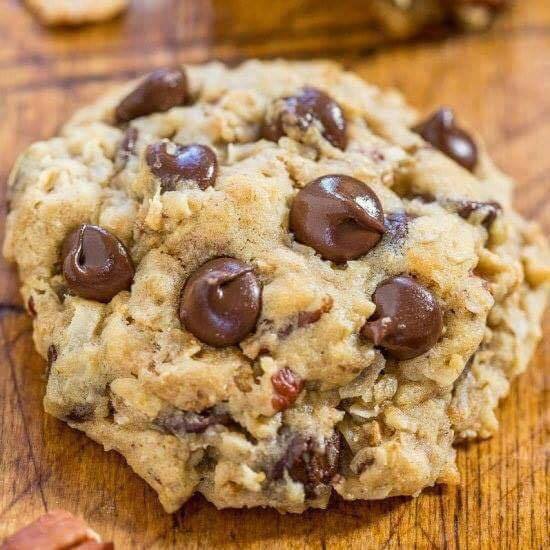 You don't have to be a cowboy or cowgirl to love these cookies. I'm neither and couldn't get enough of them.
I'm not exactly sure why they're named Cowboy Cookies. Maybe because they're so hearty and full of texture that after eating them you'll be ready to go to work out on the ranch for a few hours.
I've seen many recipes for them over the years, including Laura Bush's recipe and merged various recipes into one for this version.
There are so many textures, flavors, and elements in every bite and it all somehow works. They're like an Oatmeal Chocolate Chip Cookie with the addition of shredded coconut, which reminds me of Soft and Chewy Seven Layer Magic Bar Cookies. Chewy oats, sweet coconut, and chocolate is a perfect combo.
Throw in some pecans and Cornflakes reminiscent of Cornflake Chocolate Chip Cookies from the famous Christina Tosi and you've got yourself a mouthful. The pecans add a firmer crunch while the Cornflakes add a lighter, crispier crunch. The crunchiness plays off the chewiness from the oats and coconut beautifully.
I've seen them called Kitchen Sink Cookies and for good reason. Almost everything but the kitchen sink is in them and it's the type of recipe that if you want to swap walnuts for the pecans, swap raisins for the chocolate chips, use Special K rather than Cornflakes, or make tweaks given the ingredients in your pantry they'll probably turn out fine.
Ingredients
1 1/2 cup(s) quick cooking rolled oats
3/4 cup(s) all-purpose flour
1/2 tsp baking soda
1/2 tsp table salt
1/2 cup(s) unsalted butter, softened
1/2 cup(s) packed light brown sugar
7 Tbsp sugar, granulated
1 large egg(s)
1 tsp vanilla extract
1/4 cup(s) mini chocolate chips
Instructions
Preheat oven to 350°F.
In a medium bowl, stir together oats, flour, baking soda and salt until blended; set aside.
In a large bowl, with an electric mixer, beat butter and both sugars until light and fluffy, about 3 minutes. Beat in egg and vanilla until blended. Stir in oat mixture with a wooden spoon. Stir in chocolate chips.
Drop rounded tablespoonfuls of batter, 2-inches apart, onto 2 ungreased cookie sheets. Bake until cookies are set and light golden, about 13 to 15 minutes. Let cookies cool on baking sheets for 2 minutes. Remove cookies to a wire rack and cool completely. Yields 1 cookie per serving.
NotesStore cookies in an airtight container at room temperature up to 1 week or freeze up to 2 months.
Serves: 30
WW SP: 4
CLICK NEXT PAGE TO CONTINUE …